Kids make our lives worthwhile. As a parent, there's nothing better than the time you spend with them. This is true whether you're watching movies together or just playing a game.
But, as rewarding as it is, there's also going to be many challenges.
Single parents know this all too well. That's because you need to be both mom and dad to your kids. And, along the way make sure that all the other things in life are in order.
While things can get stressful or overwhelming, it's important to make sure to always look after yourself. Self-care is vital because you need to be healthy to take care of your kids.
And, one way to do this is by taking time out for yoga.
Why you may ask?
That's because it offers a whole range of health benefits, including the physical, mental and emotional. All of which help you become a better parent.
Yoga Makes You Stronger, More Flexible and Improves Your Balance
Probably the first thing you'll notice after a few yoga sessions are you'll feel better physically. Research shows that yoga helps you get stronger, lose some weight, be more flexible and have better balance.
These make you a better parent, especially to younger kids. We all know how much energy they have, which means you'll need more to keep them in check.
And don't get me started on birthday parties and sleepovers. Any parent knows that these are pure insanity. With all the kids running around not wanting to slow down, sleep or nap. If they happen to get their sugar fix, you can expect things to get rowdy too. Here's where all these physical benefits come in. It helps you keep up with the kids. But, it doesn't stop there. Yoga also comes with some lesser known physical effects. These include better stamina, faster reaction times and improved agility. These are somewhat surprising because yoga involves slow, calm movements. None of which make you do any cardio, much less train your reaction times. It's for this reason that many professional athletes including those playing in the NBA, NFL and Major League Baseball now include yoga as part of their training regimens.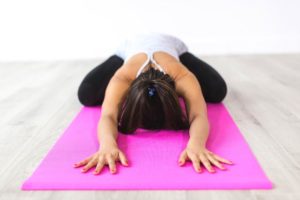 It's a Stress Buster
One of the best-known benefits of practicing yoga is its effect on stress and anxiety. That's because yoga lets you slow down from the hectic pace of parenthood.
At any given point of the day, you'll find yourself cooking, working and taking care of the kids. Then, there are all the other things in life. Making sure the bills are paid, that things that need repairing get fixed and having to rush to an appointment or engagement you need to be at. Yoga is the complete opposite. It involves calm and steady movements being performed in a peaceful environment. But, it isn't just what happens to your body that lets you relax. It's what happens in your brain.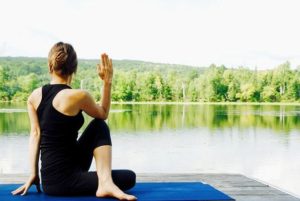 Yoga Helps Your Brain Calm Down
Research shows that when you practice yoga, your brain releases more GABA. GABA is short for Gamma-Aminobutyric Acid. It's a neurotransmitter (brain chemical) that prevents your brain from getting over excited.
This allows you to take a step back from all the things that are happening around you and the things you still need to get done. More importantly, doing so helps reduce stress and anxiety.
Your Cortisol Levels Also Go Down
In addition to GABA, yoga also helps lower your body's cortisol levels. Cortisol is a stress hormone. It is released whenever you experience stress or anticipate a stressful situation.
To help you deal with whatever is happening, it puts your body in "fight or flight mode". This state prepares your body to take on emergencies, serious issues, and even life-threatening conditions. To do so, it tells your body to release more sugar into your bloodstream. This gives you more energy and lets you focus better. It likewise makes you more alert. Similarly, stress hormones cause your heart to beat faster. In doing so, it pumps more blood into your muscles and organs, allowing you to feel stronger, be able to act fast and react even faster should the need arise.
As a single parent, life is often stressful because you need to always be on top of your game. If you don't take time out for yourself every so often, you may find yourself feeling chronically stressed out.
When this happens, your cortisol levels stay high, which isn't good for your health. Research shows that chronic stress produces long-term health problems including high blood sugar, high blood pressure, and heart disease.
None of which you want or need in your life.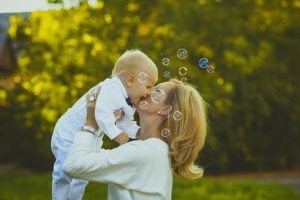 Yoga Helps Keep You Healthy
As any single parent would know, it's important to practice self-care. That's because you've got no backup. You need to make sure you're healthy, so you can be there to take care of your kids.
That's where yoga comes in.
While the physical benefits of yoga are the first things you'll experience, they won't be the last. After a few months, you'll start noticing some physiological benefits as well.
In addition to better body composition, improved posture, strength and balance, you'll get healthier. That's because studies show that yoga improves your cholesterol, lowers your blood pressure and helps regulate your blood sugar levels.
In addition, it's also very effective in reducing pain. It helps chronic pain sufferers with their headaches and migraines while alleviating neck and back pain as well. This helps you get rid of having to resort to pain medication and the side effects that come with them. More importantly, it lets you feel better and allows you to do all the things you need to.
Yoga Gives Your Brain a Boost
One of the most interesting benefits of yoga is how it affects the brain. On the onset, yoga may seem like any other form of exercise. After all, when people mention yoga, what comes to mind is the stretching and pretzel-like poses that yogis perform.
The reality is, a holistic yoga program involves the poses (asana), breathing (pranayama), and meditation. As a result, yoga has some profound effects on your brain.
Studies using fMRI (Functional magnetic resonance imaging) scans have shown that long-term yoga practice actually changes your brain. In fact, the brains of yogis who've been practicing for decades are very different from those of average people who don't do yoga.
More Gray Matter Density
Your brain primarily consists of two types of tissues. These are white and gray matter. They're referred to as such because that's the color they appear to be when seen in brain scans.
In general, the human brain typically has 60% white matter and 40% gray matter. Both types of tissues are essential for proper brain functioning. But, they perform very different things.
• White matter are the highways that allow different sections of your brain to send and receive signals. This lets them coordinate with one another and allow you to connect different pieces of information.
• Gray matter is where your brain cells are. Thus, they're responsible for learning and memory. They're likewise what allows you to make decisions and apply self-control. These areas also regulate your senses. As such, they handle your ability to see, hear, feel and smell things.
Interestingly, studies observed that people who practice yoga have denser gray matter compared to those who didn't. More importantly, research shows that it takes only 8 weeks of yoga to significantly improve your brain's gray matter composition.
Certain Areas of the Brain Grow in Size
Besides the changes in gray matter density, regularly practicing yoga has also been shown to increase the size of certain areas of the brain. Two of these areas are the hippocampus and the somatosensory cortex.
The hippocampus is the part of your brain that's responsible for your memories, especially long-term memories. In addition, it also plays a major role in your emotions and senses. This is why long-term yogis no only have a good memory but also have very good control of their emotions.
Meanwhile, your brain's somatosensory cortex plays a part in your brain's ability to receive signals from your senses. As a result, yoga helps you be more aware of everything that happens around you. That's because you more in tune with what you see, touch, hear and smell.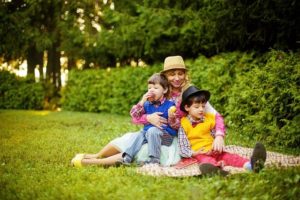 The Folds in Your Brain increase
If you look closely at any image of the brain, you'll notice that it is very wrinkled. While the bumps don't make it pretty to look at, they play an essential role in your cognitive ability.
These wrinkles are called cortical folds. In medical or scientific terms, they're referred to as gyrification.
Basically, these folds contain brain cells. And, by being folded, it allows the surface area of your brain to increase. Thus, letting it hold more neurons or brain cells.
That's a good thing.
A good way to think about why these folds are important is to compare it to a blanket. When you open up a blanket, it takes up a large around of space. To reduce the space it covers, you can fold up the blanket. But, in doing so, you don't reduce the amount of fabric in the blanket. Nor did you decrease its total surface area.
Since our brains are contained in our skulls, which are relatively small, evolution had to find a way to fit it in your skull. To do so, it twists and coils your brain tissue, which appear as the folds.
More importantly, yoga increases the number of folds in your brain. This makes it function better and allows your brain to process information faster.
What This Means for You
The mental benefits of yoga allow you to remember all the things you need to. This includes your kids' schedules, what they like to eat, and where they left their toys or blankies.
Just as importantly, it lets you process all the information around you to make better decisions. One of the challenges of being a single parent is that you don't have a partner to bounce your ideas off of. This can be daunting at times, especially when they involve important matters like bringing the kids to the doctor or whether to allow them to go on their school trip.
Finally, it allows you to be more aware of yourself and your children. You likewise have better self-control and are able to keep your emotions in check. Both of which are often tested when it comes to our kids.
About the Author
Emma Lymn is the editor of Health Grinder, a health and nutrition blog. She is passionate about helping others learn to eat healthy and lose weight. A proud mom of two kids and a very spoiled dog, she enjoys traveling and volunteering in her spare time.